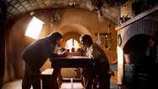 Third 'Hobbit' movie may be coming from Peter Jackson Los Angeles Times Independent studio Metro-Goldwyn-Mayer controls 50% of the film rights and international distribution, though it has contracted with Warner Bros.
The film is said to cover the literary prequel that leads into the "Lord of the Rings" films.
The first two films were set to come out December and the second the following year, costing about $500 million.
What is not known is how this would effect the first two movies. Would he have to add reshooting to extend the first two and thus not squeeze the grandeur of the worlds he has already created? Would he have to reuse footage he has already shot since rebuilding of sets would cost an enormous amount of money?
This is why we stick to the smaller indie films… Such issues give us a headache… But we do look forward to these big films. Read on.. Full article with the link. And feel free to comment.
See on www.latimes.com