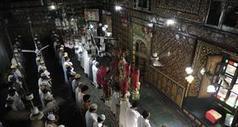 Indian American director's thriller gets 8 festival nomination.
Washington, July 27 — "9 Eleven", a Bollywood-style thriller by an Indian American director, has been nominated for a record eight awards at the 2012 World Music & International Film Festival.
Recognized for its approach of demonstrating the effects of terrorism with a small group of people, the movie is fast paced and gets to the core of fear.
"A fast paced thriller with undertones of terrorism, the film poses the question how does one survive collectively in meeting the growing phenomenon of terrorism head on. Written and directed by Manan Singh Katohora, "9 Eleven" portrays the life of 11 people terrorised to the core by an unknown entity in an unfamiliar place."
The film sounds very exciting, we hope it reaches a film festival near you, as it is getting recognition in a variety of festivals.
See on india.nydailynews.com