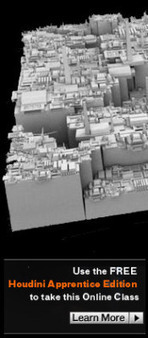 Sidefx software and Ari Danesh are starting registration for their upcoming Procedural Modeling webinar training as part of the Next Steps series.  Geared towards those wanting to learn Houdini who haven't had much experience using the software.

Here he will go over the way to create models using houdini's procedural methods and making them into digital assets for the first two classes . Creating buildings  then jumping in and creating organic trees using Lsystems as well as fruits and other vegetation and going over  how to create terrain and landscaping and then finishing it off with a horse carriage…   Ari is a good Houdini artist and instructor for those who are interested in learning how to use this powerful tool take the class.

It will show u a new way of modeling and how easy it can be used over and over again using the digital asset as well as how easy it is make changes on the fly once u do….
It runs
Carlos Phoenix's insight:
See on cylibral.wordpress.com